| | |
| --- | --- |
| 750 S. Spaulding Ave., Suite 112, Los Angeles, CA 90036 | Essays, Manifestos, Statements, Speeches, Maxims, Epistles, Diaristic Jottings, Narratives, Natural histories, Poems, Plays, Performances, Ramblings, Revelations, and all such ephemera as may appear necessary to bring society into a slight tremolo of confusion and fright at least. |

Green Integer News

$5 SALE | American Fiction | $5 SALE

Buy all 15 books
$75 SALE
---
Ten Thousand Lives: Maninbo, Volumes 21-25

Born in 1933 in a small rural village in Korea's North Cholla Province, Ko Un grew up in a Japanese-controlled land that was soon to experience the horrors of the Korean War. He became a Buddhist monk in 1952, and began writing in the late 1950s. Ten Thousand Lives is his major, ongoing work, which began in prison with a determination to describe every person he had ever met or heard of. It tells the stories of many figures from Korean history, as well as children and poor people, who, without his poems, would have vanished into oblivion. Green Integer previously published Volumes 1–10.

Buy both books in the series
$32 SALE
---
$5 SALE | Theater and Film books | $5 SALE

Buy all 12 books
$60 SALE
---
My Year 2013: Murderers and Angels

The mass shootings that led up to 2013 and continued throughout the year determined that Douglas Messerli's 14th volume of his My Year series would be focused on the individuals behind the weapons that had killed so very many innocent children and adults. But at the same time, it became clear to this historian of societal and personal cultural events residing in the city of Angels that there were also angels in our midst who created a dichotomy in life. As Cary Grant's angelic messenger in the film The Bishop's Wife observed, the face you see while strolling any city or village street "may be the face of a murderer or the face of an angel." And in most cases there was no way to easily tell the difference.
---
Grammatical Dreams
Grammatical Dreams presents a series of luxuriant, twinkling, dream-like tales that might almost remind one of Scheherazade's One Thousand and One Nights. Murray Pomerance is a Canadian writer of several fictions and books on film.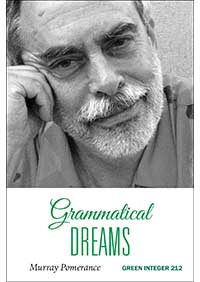 ---
Biography of Julie von Bartmann

Written in France in 1923–24 and never previously published, Djuna Barnes' play, Biography of Julie von Bartmann, is related to several of her early stories—particularly "A Night Among the Horses"—and to her 1928 fiction Ryder. Like the father, Wendell, of her fiction, the father of this early play, Basil Born, refuses to let his children attend public school, and challenges the school authorities, opposing their teaching methodologies: he wins. And like the early short story, one of Barnes' best, a strong and sophisticated woman verbally destroys her "bestial" horse groom.
---
A Poetic Order of Excess

Translator Jorge Brioso and poets Néstor Díaz de Villegas and Enrico Mario Santí will present the new collection A Poetic Order of Excess by Cuban poet José Lezama Lima (1910–1976), one of the most influential writers in Latin American Literature. December 12, 2019, 8pm, $10 at Beyond Baroque, 681 Venice Blvd.
---
Back in Print!

Many of Green Integer's Best Sellers are returning as "print-on-demand" and PDF books.
---
RARE | Sun & Moon books | RARE

Green Integer still has some of its older Sun & Moon books, many of them in hardcover!
---
Green Integer
On......Net......
"Go In" and visit our Digital Catalog, where we offer PDF files of several new, older, and out-of-stock Sun & Moon, Green Integer, and other archived titles. For more online content, please also visit our blogs devoted to specific genres: The PIPPoetry site (poetry), the USTheater site (theater), EXPLORINGfictions (fiction), International Cinema Review (film), ART Là-bas (art), and the Green Integer Blog (devoted to other cultural events).

Douglas Messerli, Publisher
douglasmesserli@gmail.com




New Digital Releases

Purchasers of digital books will be provided with a PDF link within 24 hours of payment.
---



Digital edition in PDF file format:
U.S. $5.00*

Gold Fools

Gilbert Sorrentino

In this brilliant, witty, yet fond burlesque of boys' adventure books, noted American novelist Gilbert Sorrentino tells the story in interrogative sentences, forcing the reader to answer the very questions of the narrative itself.

Complete book details.

---



Digital edition in PDF file format:
U.S. $8.00*

Republics of Reality 1975-1995

Charles Bernstein

Including the complete poems of early books such as Parsing, Shade, Senses of Responsibility, Resistance, and The Absent Father in Dumbo, as well as new work (collected here as Residual Rubbernecking), Republics of Reality is one of Bernstein's most important collections to date, revealing his great diversity and the witty, quirky, comic, philosophic, and lyric quality of his poems.

Complete book details.

---



Digital edition in PDF file format:
U.S. $8.00*

Content's Dream: Essays 1975-1984

Charles Bernstein

As Ezra Pound's Gaudier-Bzeska, William Carlos Williams's Collected Essays, and Gertrude Stein's How to Write served for their time, Bernstein's provocative essays are documents central to the poetic theory of their day.

Complete book details.

---



Digital edition in PDF file format:
U.S. $5.00*

Arcanum 17

André Breton

Considered radical at the time, today Breton's ideas seem almost prescient, yet breathtaking in their passionate underlying belief in the indestructibility of life and the freedom of the human spirit. Andre Breton wrote Arcanum 17 during a trip to the Gaspe Peninsula in Quebec in the months after D-Day in 1944, when the Allied troops were liberating Occupied Europe.

Complete book details.

---



Digital edition in PDF file format:
U.S. $5.00*

Asia & Haiti

Will Alexander

Asia & Haiti presents two long poems by Los Angeles poet Will Alexander, which, in the broadest sense, are about the cultures, economics, politics, history, and social concerns of the title regions.

Complete book details.

---



Digital edition in PDF file format:
U.S. $5.00*

Radio Dialogs I

Arno Schmidt

Radio Dialogs I and Radio Dialogs II represent some of the "conversations" Schmidt performed on German radio, challenging listeners to reexamine the literary canon, from German authors like Barthold Heinrich Brockes, Christoph Martin Wieland, Ludwig Tieck, and Karl May, to the English Brontë sisters and the Irish James Joyce.

Complete book details.

---



Digital edition in PDF file format:
U.S. $5.00*

The Secret Service

Wendy Walker

In a quasi-eighteenth century Europe, agents of the secret service use their ability to masquerade as objects to break up a plot against the king and queen.

Complete book details.

---



Digital edition in PDF file format:
U.S. $5.00*

Smiles on Washington Square

Raymond Federman

In this, his fifth novel in English (and its first paperback edition), the acclaimed French-born writer and poet, Raymond Federman, has given us the bittersweet tale of Moinous and Sucette who fall in love "across a smile" in Washington Square.

Complete book details.

---



Digital edition in PDF file format:
U.S. $5.00*

Selected Declarations of Dependence

Harry Mathews

A hilarious text of familiar quotations gone amuck that reveals Mathews' involvement with the Oulipo.

Complete book details.

---



Digital edition in PDF file format:
U.S. $5.00*

Laughter: An Essay on the Meaning of the Comic

Henri Bergson

In this great philosophical essay, Henri Bergson explores why people laugh and what laughter means. First translated into English in 1911, this important work has long been unavailable.

Complete book details.

---



Digital edition in PDF file format:
U.S. $5.00*

with each clouded peak

Friederike Mayröcker

A magnificent text that does not easily fit into any genre, as it straddles autobiography, essay, fiction, and poetry.

Complete book details.

---



Digital edition in PDF file format:
U.S. $5.00*

Fur

Liliane Giraudon

Moving through an indeterminate atmosphere reminiscent of Beckett, marginalized characters are mysteriously drawn to one another or brutally torn apart for reasons they cannot understand or which they completely ignore, for Giraudon gives no explanation, forcing us to drawn our own conclusions and leaving us with a feeling of puzzlement and wonder.

Complete book details.

---

*You can purchase online using U.S., Australian or Canadian Dollars,
Euros, Pounds Sterling or Japanese Yen